Business Champion Awards X Simplex Accounting
Back in January, we were delighted to be chosen as finalists for the Community Award for the Business Champion Awards out of 800 total entries.
We were commended by the judges for our focus on our young workforce. During the covid pandemic, we adapted our work offering to ensure our auditors felt supported. Those who were able to continue their work were encouraged to walk between audits where possible, with our 'paid to walk' incentive – allowing auditors to be rewarded for keeping public transport usage to a minimum in times where risks were high. Auditors who were unable to leave the house were able to work from home with our home delivery audits. Some of our auditors were also offered internal team positions during this time.
To keep morale up, we expanded our budget for social media competitions and challenges to keep auditors engaged and part of the community. This also involved hosting Zoom sessions to allow auditors to come and chat to the team, whether that be about their work or just for the sake of seeing a friendly face. Since the pandemic, we have been able to organise monthly auditor drop-in sessions online, which offer auditors further auditing or employment support with a member of the internal team. Our Area Managers now organize quarterly socials, to invite their auditors to meet with them, for an 'all expenses paid' group activity. This has recently seen our team take auditors for drinks, bowling, crazy golf or darts. It has been wonderful to see the auditor community coming together even more, year on year.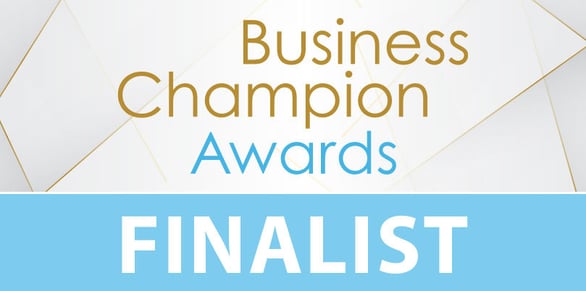 The Serve Legal community is one that we are hugely proud of. Over the 17 years that Serve Legal has been providing compliance support to businesses and retailers, we have completed over three million compliance audits through our reliable team of over 20,000 auditors. We are delighted to be active champions of UK Youth talent, growing and developing our auditors into a driven workforce.
Upon attending the Business Champion Awards, we were delighted to be sat beside a past auditor who had been nominated as a Finalist herself. Since auditing at the age of 18, Lucy Johnson has worked to create Simplex Accounting, an award-winning accountants and bookkeepers, by the age of twenty-three.
Lucy Johnson started at Serve Legal when she was just 18 years old. At the time, she was juggling four jobs, one of which was working for an accountancy practice during the day. Despite her busy schedule, Lucy found that Serve Legal was an excellent option to fit into her days around her other jobs, allowing her to work when she wanted.
Lucy's hard work and determination paid off when she became a fully qualified AAT accountant in April 2021. Unfortunately, the same month brought an unexpected turn of events when she was made redundant from her job. Instead of letting the setback get her down, Lucy made the bold decision to set up her own book-keeping and accountancy business, Simplex Accounting Limited. Within just nine months, the business had seen significant growth, and Lucy had even hired her first full-time employee. As a mentor, Lucy has supported her employee through their AAT Level 4 apprenticeship, helping them to progress in their accountancy career.
Lucy's work ethic, resilience, and business acumen have established Simplex Accounting Limited as a well-respected business that provides valuable support to numerous other businesses. Her success serves as an inspiration to other young entrepreneurs looking to make their mark in the world of business.
One of the main benefits of auditing with Serve Legal was that it allowed Lucy to develop her skills in areas such as communication, problem-solving, and attention to detail. These are all valuable skills that she has been able to apply in her subsequent career as an accountant and business owner.

Another benefit was that the job involved visiting a range of different locations, which provided Lucy with a diverse range of experiences and insights. This exposure to different environments and situations has also been valuable in her career as an accountant, where she has worked with a wide range of businesses in different industries.

Finally, working for Serve Legal gave Lucy the opportunity to earn money while gaining work experience, which was a valuable opportunity at a young age. This experience helped to build her confidence and work ethic and provided her with a solid foundation upon which to build her subsequent career.
We are thrilled to hear auditor success stories like Lucy's; it is great to see how Serve Legal can support young people in the first steps of their careers.